Posts for tag: toothache
By Mark Lukin
May 09, 2019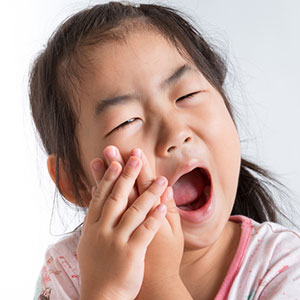 "Mom, my tooth hurts" isn't something you look forward to hearing your child say. But tooth pain is as common as other childhood ailments, so you may have to face it. Here are a few simple steps to make it easier.
First, ask your child where in the mouth it hurts and, if they can, tell you how long it's been hurting. Children's memories aren't always accurate, but you can still get a general idea that you can communicate with your dentist if you take them in.
Next, look in their mouth for anything out of the ordinary: gum swelling or bleeding, or dark spots on the teeth indicative of tooth decay. Look also for hard food particles like popcorn kernels caught between the teeth, which could be causing the pain. Gently floss between the teeth (even if you can't see anything) to remove any caught particles.
You'll also want to help ease their pain. You can apply an ice pack against the painful side of the jaw. Don't place ice directly on the skin, but use a container or cloth alternately against the jaw for a minute or so, and then away for a minute. You can also give them a dose of mild pain reliever like ibuprofen or acetaminophen appropriate for their age and weight—but never rub aspirin or other pain relievers on the gums, which tend to be acidic and can burn the skin.
Finally, you'll need to decide if you need to see a dentist and how soon. It might not be necessary with situations like the trapped food particles, but most of the time it's wise to have your dentist perform an examination for an accurate diagnosis and appropriate treatment. As to how soon, try to see the dentist immediately if the pain has continued from one day to the next or has kept your child up overnight. Otherwise, book an appointment for as soon as the dentist advises, even if the pain subsides.
A toothache at any age is never pleasant, but especially for children. Knowing these steps will help ease their discomfort and get them the relief and treatment they need.
If you would like more information on dental care for children, please contact us or schedule an appointment for a consultation. You can also learn more about this topic by reading the Dear Doctor magazine article "A Child's Toothache: Have a Dental Exam to Figure out the Real Cause."
By Mark Lukin
November 25, 2016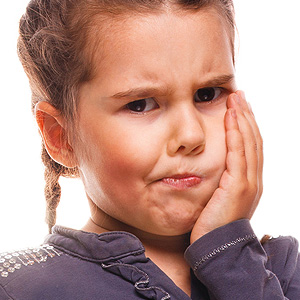 A child's toothache is no fun for either the child or the parent. But if you're faced with this situation, don't panic — unless they have a fever or you notice facial swelling, it's unlikely an emergency.
 Instead, take the following steps:
Find out where it hurts and for how long. Tooth pain can stem from a lot of causes, including decay or a localized area of infection called an abscess. See if your child can tell you if it's coming from one particular tooth or from a general area. Although children can't always judge how long they've hurt, try to get a general idea so you'll know if you need to call us sooner rather than later.
Look for problem signs in the mouth. As you look where they say it hurts, see if you can see brown spots or cavities on any teeth — this would indicate tooth decay. Look also at the gums or inner areas of the mouth for sores or swelling. Unless they've had an injury, this could indicate an abscess.
Try to dislodge any food shards between teeth. It's also possible the pain is coming from a piece of hard food like a popcorn kernel wedged between their teeth. Help them gently floss between the teeth to see if you can dislodge any.
Try to ease the pain. Although you may not need to see us immediately, your child's mouth still aches. You can help relieve it temporarily with a child's dose of ibuprofen or acetaminophen. You can also apply an ice pack to the outside cheek for swelling, but don't apply the ice directly to the skin, which can burn it. And don't rub aspirin or other pain relievers on the gums — they're acidic and can irritate soft tissue.
See us for a full examination. It's wise to have any tooth pain checked — the question is often how soon. You should see us the same day or first thing in the morning if the pain has persisted for more than a day or night, pain relievers haven't eased the pain or they have fever or facial swelling. If the pain is short-lived you can usually wait until the next day — but do get it checked out.
If you would like more information on treating your child's toothache, please contact us or schedule an appointment for a consultation. You can also learn more about this topic by reading the Dear Doctor magazine article "A Child's Toothache."
By Mark Lukin
February 15, 2013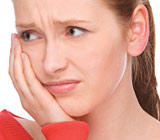 Tooth pain occurs when a trauma or infection triggers a reaction from the nerves inside a tooth's pulp chamber. The severity of the pain and its duration can vary depending on the underlying cause, which can include anything from a loose filling to an abscess. Ignoring symptoms not only results in unnecessary physical and emotional pain, but can also lead to more expensive dental treatment as problems become more complex. Make an appointment with our office today if you are experiencing any of the following symptoms:
Sharp pain when biting down on food — This type of pain could be indicative of a cracked tooth, loose filling, or tooth decay that is affecting one or more of your teeth. We can remove decay and replace a loose filling, but if your tooth is cracked, we will have to determine the location and depth of the crack before formulating a treatment plan. In some cases, root canal treatment or even extraction may be necessary.
Pain that lingers after eating hot or cold foods or liquids — Mild and short-term sensitivity (lasting only seconds or a minute) to hot and cold foods resulting from gum recession can often be soothed by using a fluoride toothpaste made for sensitive teeth. However, an inflamed tooth pulp or one that is dying due to severe decay could cause sensitivity that lingers for a long time after exposure. In this case, root canal treatment may be necessary to remove dying pulp tissue in order to save the tooth.
Constant severe pain and pressure, swelling of the gums, and sensitivity to touch — Infections and/or abscesses can spread from the tooth pulp into the surrounding periodontal tissues and bone causing this type of pain. Root canal treatment will most likely be required.
Dull ache and pressure on one or both sides of the face in the upper teeth region — The sinuses and upper back teeth share the same nerves, so, oftentimes, referred pain from sinus congestion or infection can feel like a toothache. A thorough examination can determine whether or not the pain is dentally related.
If you are experiencing tooth pain, call our office immediately so that we can begin to provide you with some relief. To read about other symptoms of tooth pain and possible treatment options, read the Dear Doctor magazine article "Tooth Pain? Don't Wait!"