Posts for tag: porcelain veneers
By Mark Lukin
August 31, 2020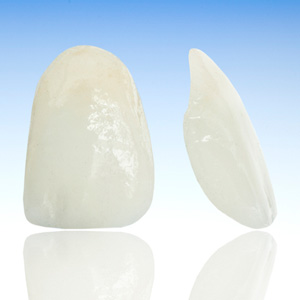 If you have a less than attractive smile due to some moderate imperfections, dental veneers may be the answer. This relatively inexpensive dental restoration may be the key to transforming your smile.
If you're thinking of veneers as a "thin covering," you're on the right track. Just like construction veneers used to cover wall surfaces, dental veneers are thin wafers of material (usually porcelain) that cover the front of tooth surfaces. Made uniquely for the individual patient, veneers provide a life-like covering that can mask a variety of dental imperfections.
Veneers are mildly invasive, meaning some of the enamel layer of the teeth to which they're bonded will need to be removed. If this alteration occurs, it's permanent, so the teeth will require a veneer or other restoration from then on. It's usually necessary, though, so that the veneer doesn't appear too bulky. Even so, veneers are still less invasive than other restorations.
The list of appearance problems veneers can address is quite varied. One of their more common uses is to correct certain structural flaws in teeth: chips, abnormal tooth shape from wear or teeth that are congenitally smaller than normal.
They're also a remedy for heavy staining. While teeth whitening can temporarily brighten a dull, dingy smile, veneers provide a permanent solution for the problem of staining. They're also a practical option for internal tooth staining, which can't be addressed by either home or professional external teeth whitening procedures.
Finally, veneers may be used to close small gaps and other mild forms of dental misalignment. And although they may not be able to correct larger gaps by themselves, they're sometimes used in conjunction with orthodontic treatment.
Veneers can address many dental flaws, but not all. To see if your dental situation could benefit from a veneer application, you'll need to undergo a complete dental examination. If it seems veneers aren't a good fit for you, your dentist will discuss other types of cosmetic treatments to improve your smile.
If, on the other hand, veneers do appear to be a viable option for you, you're just a few visits away from a completely new look. Veneers can change your smile—and your life!
If you would like more information on porcelain veneers, please contact us or schedule an appointment for a consultation. You can also learn more about this topic by reading the Dear Doctor magazine article "Porcelain Veneers: Strength & Beauty as Never Before."
By Mark Lukin
April 13, 2020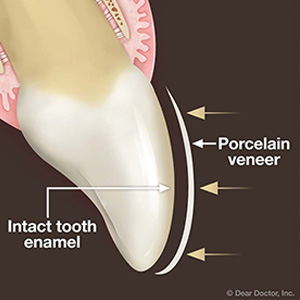 Dental veneers—thin, life-like layers of porcelain bonded to teeth—can turn a so-so smile into a beautiful one. But most veneers have a distinct drawback: To make them look as natural as possible, the teeth they're bonded with must have some of their surface enamel removed.
Even though they're 1 millimeter or less in thickness, veneers on an unprepared tooth can look bulky. Removing some of the surface enamel remedies this, but doing so permanently alters the tooth. The tooth will need a veneer or some other protective restoration from then on.
Now, though, there's an alternative veneer available for many dental patients. Known as No-Prep or Minimal-Prep, these new veneers are often as thin as a contact lens.
These new types of veneers can often be placed directly on the teeth just above the gum line without any enamel removal and look natural. At the most, the enamel beneath them may need reshaping with an abrasive tool. And, unlike traditional veneers with tooth alteration, these low-prep veneers can often be applied without anesthesia, and in as few as two appointments.
No- or Minimal-Preps are better suited for certain kinds of patients: those with small teeth or teeth that appear small due to larger mouth features; worn teeth from aging or teeth grinding or with small gaps; narrow smiles where the side teeth aren't as visible; and teeth that are slightly misshapen or with minor staining.
On the other hand, patients with oversized teeth or front teeth that jut forward may still encounter problems with an unnatural, bulky appearance even with ultra-thin veneers. The latter situation can often be corrected with orthodontic treatment first to realign the teeth to their proper positions. Once the bite is corrected, no-prep veneers may then become a viable option.
If you'd like to consider these minimal preparation veneers, see your dentist for an examination. The exam results will help determine what type of veneer solution is right for you. And whether you go with traditional or No-Prep veneers, the change in your smile can be amazing.
If you would like more information on porcelain veneers without enamel removal, please contact us or schedule an appointment for a consultation. You can also learn more about this topic by reading the Dear Doctor magazine article "No-Prep Porcelain Veneers."
By Mark Lukin
February 18, 2019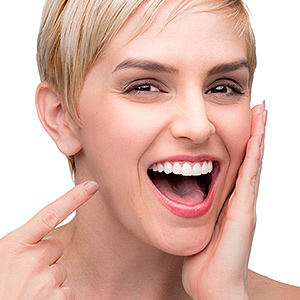 Those unattractive teeth you see in the mirror are what are standing between you and a truly beautiful smile. If only you could make them go away.
In a way, you can do just that—with dental veneers. For the past three decades dentists have been covering the imperfections of problem teeth with these thin layers of porcelain. What's more, they're usually less involved and expensive than other restorations.
Veneers work best on teeth with moderate flaws like chipping, heavy staining or wearing, or slight misalignments like crookedness or gaps. The dental porcelain used is a ceramic material that so closely mimics the color and translucence of natural teeth it often takes a trained eye to notice any difference.
The first step to getting veneers is to plan your new look with a full examination and a diagnostic mock-up, a temporary application of tooth-colored filling materials applied directly to the teeth. This gives you and your dentist a better visual idea of how veneers will look on your teeth, and to make any adjustments ahead of time. A dental lab will use these findings to create your custom veneers.
In the meantime we'll prepare your teeth to accommodate your veneers. Although they're usually only 0.3 to 0.7 millimeters thick, veneers can still appear bulky when placed straight on the teeth. To adjust for their width we usually must remove some of the teeth's surface enamel so the veneers look more natural. Because enamel can't be replaced, the removal permanently alters the teeth and will require some form of restoration from then on.
When the veneers are ready we'll attach them with special cement so they'll form an almost seamless bond with the teeth. You'll then be able to use them just as before—but with a little caution. Although quite durable, veneers can break under too much force, so avoid biting on hard objects like ice, hard candy or nuts. And be sure you practice good dental care on your veneered teeth with daily brushing and regular dental cleanings and checkups.
The end result, though, is well worth the upkeep. Porcelain veneers can rejuvenate your smile and provide you a new level of confidence for years to come.
If you would like more information on porcelain veneers, please contact us or schedule an appointment for a consultation. You can also learn more about this topic by reading the Dear Doctor magazine article "Porcelain Veneers: Your Smile—Better than Ever."