Posts for tag: orthodontic treatment
By Mark Lukin
July 23, 2018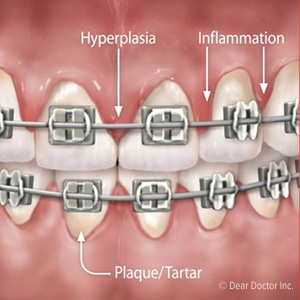 On your way to a more attractive smile, you'll have to deal with some inconveniences while wearing braces like avoiding certain foods or habits or dealing with possible embarrassment about your new "metal smile." But there's one consequence of wearing braces that could dramatically affect your dental health: the difficulty they pose for keeping your teeth clean of dental plaque.
Dental plaque is a thin film of bacteria and food particles that if allowed to build up on tooth surfaces could trigger tooth decay or periodontal (gum) disease. Brushing and flossing thoroughly every day helps prevent this buildup.
Unfortunately, metal brackets and wires can get in the way and cause you to miss areas while performing these hygiene tasks. This could cause plaque buildup in those isolated areas that could trigger an infection. And if you (or someone you love) are also a teenager, the natural adolescent surge in hormones can increase your infection risk.
If while wearing braces you notice your gums are reddened, swollen or bleeding when you brush, these are all signs of infection and the body's inflammatory response to it. The longer the infection continues, the weaker the tissues become, causing them to gradually detach from the teeth. Along with bone deterioration (another effect of the disease), this can ultimately lead to tooth loss.
To prevent this from happening, you'll need to be as thorough as possible with daily brushing and flossing. To help make it easier, you can use special tools like an interproximal brush that can maneuver around the braces better than a regular brush. For flossing you can use a floss threader to more readily guide floss between teeth or a water flosser that uses a pressurized stream of water rather than floss thread to remove plaque.
This extra cleaning effort while wearing braces can greatly reduce your disease risk. But you'll still need to keep an eye out for any symptoms like swollen or bleeding gums, and see your dentist as soon as possible. If the symptoms become severe you may need your braces removed until the disease can be brought under control. The health and future vitality of your teeth and gums is what's of primary importance.
If you would like more information on dental care while wearing braces, please contact us or schedule an appointment for a consultation. You can also learn more about this topic by reading the Dear Doctor magazine article "Gum Swelling During Orthodontics."
By Mark Lukin
July 13, 2018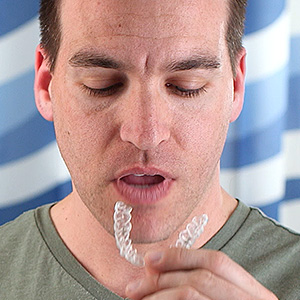 What do a teenager with a poor bite, a senior citizen with multiple missing teeth or a middle-aged person with a teeth grinding habit all have in common? They may all depend on a dental appliance for better function or appearance.
There's a wide variety of removable dental appliances like clear aligners or retainers for orthodontic treatment, dentures for tooth loss or night guards to minimize teeth grinding, just to name a few. But while different, they all share a common need: regular cleaning and maintenance to prevent them from triggering dental disease and to keep them functioning properly.
The first thing to remember about appliance cleaning is that it's not the same as regular oral hygiene, especially if you have dentures. While they look like real teeth, they're not. Toothpaste is a no-no because the abrasives in toothpaste designed for tooth enamel can scratch appliance surfaces. These microscopic scratches can develop havens for disease-causing bacteria.
Instead, use liquid dish detergent, hand soap or a specific cleaner for your appliance with a different brush from your regular toothbrush or a specialized tool for your particular appliance. Use warm but not very hot or boiling water: while heat indeed kills bacteria, the hot temperatures can warp the plastic in the appliance and distort its fit. You should also avoid bleach—while also a bacteria killer, it can fade out the gum color of appliance bases.
Be sure you exercise caution while cleaning your appliance. For example, place a towel in the sink basin so if the appliance slips from your hands it's less likely to break hitting the soft towel rather than the hard sink. And while out of your mouth, be sure you store your appliance out of reach of small children and pets to avoid the chance of damage.
Cleaning and caring for your appliance reduces the risk of disease that might affect your gums or other natural teeth. It will also help keep your appliance working as it was designed for some time to come.
If you would like more information on care and maintenance for oral appliances, please contact us or schedule an appointment for a consultation.
By Mark Lukin
May 25, 2017
Most children's permanent teeth erupt on a fairly predictable schedule. Sometimes, though, one or more teeth might not develop as they should — or at all.
These absent teeth pose functional problems for chewing and hygiene, which can affect long-term dental health. But they can also have a disruptive effect on an otherwise attractive smile if the missing teeth are the upper lateral incisors in the most visible part of the smile.
You normally find this pair of teeth on either side of the upper central incisors (the two front-most teeth). On the other side of the lateral incisors are the canine or eye teeth, known for their pointed appearance. Without the lateral incisors, the canines tend to drift into the space next to the central incisors. This can produce an odd appearance even a layperson will notice: only four teeth where there should be six!
It's possible to correct this abnormality, but it will take time and expense. The first step is usually to move the teeth in the upper jaw with braces to their correct position. This puts teeth where they should be and also opens space between the canines and central incisors so we can eventually replace the missing teeth with dental implants.
But the key to all this is timing. It's usually appropriate to undertake tooth movement with braces during late childhood or adolescence. But implants shouldn't be installed until the person's jaw fully matures, usually in early adulthood. An implant placed before then could eventually become misaligned.
To accommodate the time between bite correction and implant placement, the patient can wear a retainer appliance that will keep the newly created space open. We can also attach artificial teeth to the retainer to camouflage the empty space.
It usually takes a team of a family dentist, an orthodontist and a surgeon to see this kind of "smile makeover" project through, possibly over several years. But the gains in better aesthetics and health are well worth the time and expense.
If you would like more information on replacing non-developing teeth, please contact us or schedule an appointment for a consultation. You can also learn more about this topic by reading the Dear Doctor magazine article "When Permanent Teeth Don't Grow."