Posts for tag: nutrition
By Mark Lukin
July 20, 2016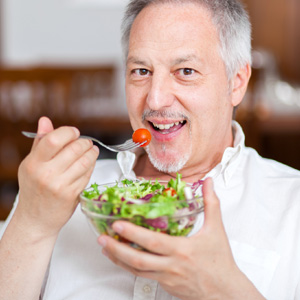 One of the most popular subjects in books, magazines and social media is food — the things we should or should not eat (or at least not too much). While losing weight is a popular focus, it's only one part of the whole — a balanced diet that supplies the nutrients we need to be healthy.
What you eat can also make a difference in your oral health. Here are 4 changes you should make to your dietary habits to cut down on the risk of dental disease.
Adopt a nutritionally sound diet plan. When we say diet, we're not talking about the latest weight-loss sensation — we mean a planned way of eating for life. For most people, that's a balanced diet of fresh fruits and vegetables, protein and dairy. Your teeth and gums have the best chance of remaining strong and healthy with a nutrient-rich diet.
Manage your sugar intake. Sugar and similar carbohydrates are a rich food source for bacteria that cause dental disease. It's important then that you keep your sugar consumption within limits: don't eat more than six teaspoons of processed sugar a day (or three for a child); avoid sugary snacks between meals; and try to satisfy your sweet tooth with the natural sugars found in fresh fruits and vegetables.
Cut back on acidic beverages. Sodas, juices, sports and energy drinks are all the rage. They're also high in acid, which at chronic levels can soften and erode tooth enamel. So, try to drink them only at meal times and avoid sipping on them over long periods. And, if you're hydrating yourself after moderate work or exercise, try nature's perfect hydrator — water.
Avoid eating before bedtime. A good portion of the acid in our mouths after we eat can be neutralized by saliva. As we sleep, though, our saliva flow slows down and doesn't have the same buffering power as it does during the day. So, try not to eat as least an hour before you turn in for the night, especially foods with added sugar.
If you would like more information on nutrition and oral health, please contact us or schedule an appointment for a consultation. You can also learn more about this topic by reading the Dear Doctor magazine article "Nutrition & Oral Health."
By Mark Lukin
April 25, 2015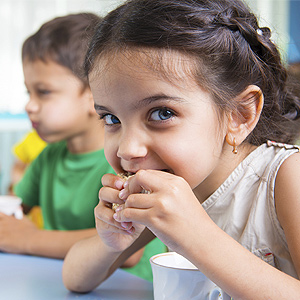 Eaten in a fast food restaurant lately? If so, maybe you've noticed some changes in the big, colorful signs behind the counters. Many have begun promoting a few "healthier" selections (like salads and grilled items) and giving a more extensive listing of nutritional information. But there's one thing you might not have noticed on those displays: a listing for soda among the beverage choices in the kiddie meal packages. That's because they are no longer there.
Recently, Burger King quietly removed sugary fountain drinks from the in-store and online menu boards that show what you get with kids' meals. They were following the lead of McDonalds and Wendy's, both of which made similar moves in prior months. You can still get a soda with your kiddie burger if you specifically ask for one, but we're hoping you won't; here's why.
For one thing, youth obesity has nearly tripled in the past three decades. As the U.S. Centers for Disease Control and Prevention (CDC) has noted, it's now an epidemic affecting more than one in six children and adolescents. Many of the extra calories kids get are blamed on sugary drinks: According to a study by the Harvard School of Public Health, children's daily calorie intake from these beverages rose by 60 percent in recent years. Obesity makes kids more likely to get many diseases, and can lead to problems in psychological and social adjustment.
But that's not all. As dentists, we're concerned about the potential for soda to cause tooth decay, which is still the number one chronic disease in children around the world. The association between sugary drinks and cavities is clear. So is the fact that tooth decay causes pain, countless hours of missed school and work, and expense that's largely unnecessary, because it's a disease that is almost 100 percent preventable.
While the new signage at fast food restaurants won't make soda disappear, it does tend to make it less of an automatic choice. Anything that discourages children from routinely consuming soda is bound to help — and let's point out that the same thing goes for other sweet and acidic beverages including so-called "sports" and "energy" drinks. It's best to try and eliminate these from your child's diet; but if you do allow them, at least limit them to mealtimes, and give your mouth a break from sweets between meals. That gives the saliva enough time to do its work as a natural buffer and acid-neutralizer.
What else can you do to help keep your child's oral hygiene in tip-top shape? Be sure they brush their teeth twice and floss once every day, and bring them in for regular checkups and cleanings. But if you do suspect tooth decay, don't delay treatment: Left alone, decay bacteria can infect the inner pulp of the tooth, resulting in severe pain, inflammation, and possibly the need for root canal treatment.
If you would like more information about children's oral health, please contact us or schedule an appointment. You can learn more by reading the Dear Doctor magazine articles "How to Help Your Child Develop the Best Habits for Oral Health" and "Top 10 Oral Health Tips For Children."
By Stephen P. Lukin, D.D.S.
July 24, 2011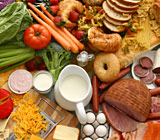 How many of these questions can you answer correctly? The more you know about nutrition and oral health, the healthier you are likely to be.
What are free sugars?
"Free sugars" is a term for sugars including refined cane, beet and corn sugar, which are added to foods or occur naturally in honey, syrups or fruit juices.
You probably know that foods with added sugars are not healthy for your teeth. What is the maximum recommended sugar intake for oral health?
The recommended daily limit for free sugar is 10 teaspoons per day. Note that one can of soda contains over 6 teaspoons.
If a sugary snack is bad for your teeth, what could you substitute that would be better?
Fresh fruits and vegetables would be a better snack. Fresh fruits contain fructose, a sugar that has not been shown to be harmful to teeth if eaten in reasonable amounts.
How can you get enough fluoride to guard your teeth against decay?
If your water supply does not contain fluoride, or if you usually drink bottled water, you may or may not be receiving enough fluoride from your toothpaste. We can assess if you are receiving enough fluoride by examining your teeth, testing your plaque and reviewing your past history of tooth decay. If you are having a problem with tooth decay, we can create fluoride trays for you so you can apply a fluoride solution to your teeth daily.
What is dental erosion and how is it different from tooth decay?
Some acidic foods, particularly drinks such as juices and sodas, wear away your teeth's outer coating (the enamel) when exposed to the teeth's surface. Erosion does not involve bacteria, the cause of dental caries (tooth decay).
Can certain foods stop acidity from attacking your teeth?
Yes, there are foods that reverse the increase in acidity that comes from eating free sugars. One of these is cheese. Cheese stimulates saliva in your mouth, and it contains high levels of calcium, allowing calcium to be added back to your teeth. Many vegetables and starchy whole grain foods require thorough chewing, which also stimulates production of saliva and guards against tooth decay.
We hope you learned some useful facts from this nutrition quiz. If you modify your habits so that you eat less free sugar; drink more water (preferably fluoridated), drink fewer juices and sodas; and snack on fresh fruits, vegetables, and cheese, you can count on having healthy teeth and gums.
Contact us today to schedule an appointment to discuss your questions about diet and oral health. You can also learn more by reading the Dear Doctor magazine article "Nutrition & Oral Health."