Posts for tag: laser dentistry
By Mark Lukin
April 10, 2017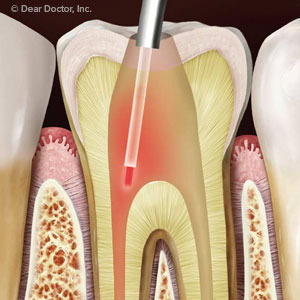 As in other parts of medicine, lasers are beginning to change the way we provide dental care. More and more dentists are using lasers to make earlier diagnoses of dental disease or provide surgical treatment. One area prime for change is the treatment of teeth with deep decay and in danger of being lost.
For decades now, the best way to save teeth in this condition is with root canal treatment. In this common procedure we access the pulp, remove the infected tissue with specialized hand instruments, and then fill and seal the pulp chamber and root canals with a special filling.
We can now potentially improve the efficiency and increase the success rate of this treatment with laser technology. With their focused light, lasers emit a concentrated burst of energy that's extremely precise. In many instances laser energy can remove the target diseased tissue without damaging nearby healthy tissue.
In this form of root canal treatment, we use lasers to remove tissue and organic debris within the pulp and then shape the root canal walls to better receive the filling. We can also utilize the heat from laser energy to soften and mold the filling, so that it better conforms within the walls of the root canals.
Using lasers in root canal treatments may require less local anesthesia than the traditional approach and also eliminates disturbing or discomforting sounds and vibrations. Dentists who've used the new technology also report less bleeding during the procedure and less pain and occurrences of infection afterwards.
But there are a couple of disadvantages for using lasers in root canal treatment. For one, light travels in a straight line — and many root canal networks are anything but straight. More complex root canal networks may still require the traditional approach. Laser energy could also increase the tooth's inner temperature, which could potentially damage tissues even on the tooth's outer surfaces.
Used in the right circumstances, though, lasers can be an effective means to treat diseased teeth. Â As laser technology continues to advance and becomes a mainstay in dental care, you may soon find it part of your next dental procedure.
If you would like more information on root canal treatments, please contact us or schedule an appointment for a consultation.
By Lukin Family Dentistry
July 03, 2011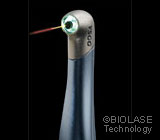 For years, lasers have revolutionized the medical industry and now they are beginning to do the same within the field of dentistry. However, anytime new technologies are introduced, people naturally will have questions. Here is a list of frequently asked questions (FAQs).
What is a laser?
Lasers are beams of light that are a single wavelength and color. Laser is an acronym derived from "Light Amplification by Stimulated Emission of Radiation."
How are they different from regular sunlight?
White light is made up of light with many wavelengths corresponding to the visible spectrum comprising the rainbow (red, orange, yellow, green, blue, indigo, and violet). Laser light consists of beams of a single color and hence a single wavelength of light, concentrated to a high energy level, which can penetrate living tissue.
How are they used in dentistry?
Dental laser usage typically falls into three categories: disease diagnosis; soft tissue procedures of the gums, lips and tongue; and hard tissue procedures of the bone or tooth enamel and dentin. Examples of the most common hard tissue treatments include the diagnosis and removal of tooth decay, while the most common soft tissue treatments include the removal of gum tissue as it relates to cosmetic dentistry and the treatment of gum disease.
Are they safe?
Absolutely! Before blazing a trail in the field of dentistry, lasers have been used for years in the medical field with research evidence and the FDA approving both their safety and efficacy. In fact, they are minimally invasive and can result in less tissue removal, less bleeding and less discomfort for patients after surgery. And what could be better than that?
Want to learn more?
To learn more about lasers and how they are used in dentistry, read the article "Lasers Shine A Light On Dentistry." And if you want to schedule an appointment, contact us today.