Posts for tag: diabetes
By Mark Lukin
August 06, 2013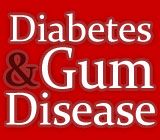 Diabetes and periodontal (gum) disease are two types of inflammatory conditions that have more in common than was once thought. There is strong evidence to show that each of these diseases is a risk factor for the development and growth of the other. Studies have also found that treating one condition successfully may have a positive impact on the treatment of the other.
From the Greek meaning "to pass through the urine," diabetes mellitus causes an abnormal rise in blood glucose level that can't be adequately controlled by insulin, the body's primary hormone for that task. Either the pancreas can't produce an adequate supply of insulin (as with Type 1 diabetes) or there is resistance to the hormone's effects (as with Type 2 and gestational/pregnancy diabetes). If you are a diabetic patient, you face many difficult issues with your health: your body develops an altered response to inflammation that may severely inhibit wound healing. You also may become more prone to chronic cardiovascular disease.
Periodontal (gum) disease describes a group of diseases caused by dental plaque, a whitish film that contains infection-causing bacteria. As infection rises within the gum tissues, the auto-immune system of the body responds to this threat and inflammation results. If the person is also a diabetic, this response may be impaired and may have a direct effect on how severe the periodontal disease progresses.
Periodontal disease can also affect your blood glucose level, if you are a diabetic. A number of studies have demonstrated that diabetic patients who have improved control of their periodontal disease through better oral hygiene and dental treatments have shown improvement in their blood sugar levels. There's even some evidence that effective periodontal treatment that reduces inflammation may improve the body's sensitivity to insulin. Likewise, bringing diabetes under control with supplemental insulin or positive lifestyle changes can help lessen the likelihood and severity of periodontal disease.
To sum it up, if you have been diagnosed with some form of diabetes, taking care of your teeth and gum tissues can have a positive impact on your diabetes. Likewise, making healthy changes in your lifestyle to bring your diabetes under control can reduce your risk for periodontal disease.
If you would like more information about periodontal disease and its effect along with diabetes, please contact us or schedule an appointment for a consultation. You can also learn more about this topic by reading the Dear Doctor magazine article "Diabetes and Periodontal Disease."
By Mark Lukin
July 29, 2013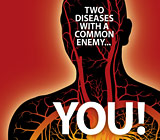 The increasing rates of obesity and diabetes in Americans have been getting a lot of attention lately. Most people know that the two are clearly linked. But did you know there's also strong evidence of a link between diabetes and gum disease?
Both diabetes and periodontal (gum) disease are chronic inflammatory conditions. That means they are disorders that develop over time (chronic), and are characterized by problems with a function of the immune system (inflammation). In diabetes, problems with the hormone insulin lead to abnormal levels of sugar in the blood. This can bring about a number of complications which, if not treated, may result in kidney failure, coma and even death. In many people, however, it's a condition that can be managed with drugs and lifestyle changes.
You may not think of gum disease (periodontitis) as a serious illness. But here's something you should know: If you have diabetes, having gum disease is a risk factor for worsening control of blood glucose levels, and may also increase the risk of complications. Likewise, having diabetes puts you at greater risk for developing more severe forms of periodontal disease.
What is gum disease? It's actually a group of diseases caused by many types of bacteria in the mouth, which affect the tissues around the teeth. Initially, it often causes swelling and redness of the gum tissue. Left untreated, it may result in bone loss, abscess formation, and ultimately the loss of teeth. But its ill effects aren't limited to your mouth.
Periodontal inflammation is associated with a higher systemic (whole-body) inflammatory state. That means it may increase your risk for cardiovascular diseases like heart attack and stroke, and adverse pregnancy outcomes — as well as complicating the management of blood-sugar levels in diabetics.
Now, here's the good news: Treatment of periodontal disease which reduces inflammation has a beneficial impact on the inflammatory status of the whole body. For people who have both diabetes and periodontal disease, that means that periodontal therapy can lead to improved blood sugar control.
How do you know if you have periodontal disease? Bleeding gums and bad breath are both possible symptoms, as are redness and soreness of the gum tissues. But these warning signs may be masked by any number of other factors — or may not be noticed at all.
The sure-fire way to diagnose and treat periodontal disease is by getting regular dental checkups, followed by specialized periodontal treatment when necessary. If you presently have diabetes, or may be at risk for developing the disease, those check-ups and treatments are even more important.
If you have concerns about diabetes and gum disease, please contact us or schedule an appointment for a consultation. You can learn more in the Dear Doctor magazine articles "Diabetes & Periodontal Disease" and "Understanding Gum (Periodontal) Disease."
By Stephen P. Lukin, D.D.S.
October 22, 2012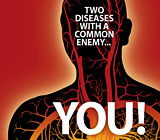 Both diabetes and gum (periodontal) disease are chronic inflammatory diseases that have negative consequences for millions of people worldwide. But before we continue, let's define these two diseases:
Periodontal disease is a condition in which biofilms of dental bacterial plaque stick to teeth near the gum lines causing the gum tissues to become inflamed and infected. If not treated properly and in an early stage, it can cause severe damage to the bone that supports the teeth, resulting in tooth loss. It occurs in the absence of good oral hygiene which includes ineffective daily brushing and flossing and neglecting to see your dentist.
Diabetes is a chronic condition in which blood glucose (sugar) levels become excessive. Glucose is the body's main source of sugar for energy. The hormone insulin, among other mechanisms, normally controls glucose. Prolonged elevated blood sugar levels are harmful and ultimately can even be life threatening if left untreated. With type 1 diabetes, insulin injections (shots) are required to maintain the proper blood sugar levels because the body no longer produces its own blood sugar. Type 2 diabetes is generally less severe and can usually be treated with a combination of diet and medication.
And while both of these diseases share the same common enemy, you, there is scientific evidence revealing links between the two. Diabetes increases the risk factor for developing periodontitis, and conversely, periodontal disease makes it more difficult for diabetics to control blood glucose levels.
Want To Learn More?
Learn more about these two diseases and their relationship by reading, "Diabetes & Periodontal Disease." Or if you have diabetes but haven't had a dental exam and cleaning in a long time, contact us today to schedule a consultation. You can also use this consultation to discuss any questions or concerns you have about your oral health and its relationship to your diabetes.