Posts for tag: dental emergency
By Mark Lukin
October 03, 2014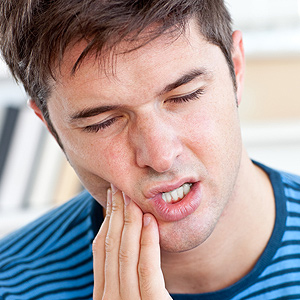 "Don't panic" is your first priority when faced with a sudden mouth injury. Of course, that may be easier said than done when you or a family member has just experienced a chipped, fractured or even dislodged tooth.
It helps, therefore, to have some idea beforehand on what to do and, especially, when to do it. You should think in terms of immediate, urgent and less urgent injuries: a tooth completely knocked out of its socket requires immediate action — within 5 minutes of the injury; a tooth that's moved out of its normal position but still in the socket is an urgent matter that needs professional attention within 6 hours; and a chipped tooth is less urgent, but still needs to be seen by a dentist within 12 hours.
As you may have gathered, the most important thing you can do when a dental injury occurs is to contact our office as soon as possible. If for some reason you can't, you should visit the nearest emergency center.
There are also some actions you should take for a knocked-out permanent tooth because there's a chance it can be replanted in the socket if you act within 5 minutes of the injury. First, rinse the tooth with cold, clean water (bottled or tap) if it's dirty. Be sure to handle it gently, avoiding touching the root. Grasping the crown-end with your thumb and index finger, place the tooth into the empty socket and push it firmly into place. Apply light but firm pressure with your hand or a wad of wet tissue to make sure it doesn't come out. Don't worry about correct alignment — we can adjust that later during examination.
If the tooth is chipped or broken, try to locate the broken pieces — it may be possible to re-bond them to the tooth. You should store them in a container with milk or the injured person's saliva (the same can be done for a knocked out tooth if reinserting it isn't practical). The broken pieces should then be transported with the injured person to emergency treatment.
Taking these actions may not ultimately save a traumatized tooth, but they will certainly raise its chances for survival.
If you would like more information on preventing and treating dental injuries, please contact us or schedule an appointment for a consultation. You can also learn more about this topic by reading the Dear Doctor magazine article "The Field-Side Guide to Dental Injuries."
By Mark Lukin
September 06, 2013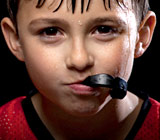 There's nothing quite like watching your son or daughter compete on the athletic field. It's a mixture of anticipation, pride — and occasionally, anxiety. Despite all the protective gear and training, kids are sometimes injured playing the sports they love. In fact, when it comes to dental injuries, teens are the most susceptible of any age group. Here's what you should know about preventing sports-related dental injuries in kids.
Of course you know that football and hockey players should always wear mouthguards, both at games and during practice. But don't forget about kids who play soccer, do gymnastics, wrestle or play basketball. According to the American Dental Association (ADA) these athletes — along with participants in about 20 other sports — also need to wear this important piece of protective gear. In fact, the ADA states that not wearing a mouthguard makes an athlete 60 times more likely to sustain dental injury!
In selecting a mouthguard, there are three basic options to choose from: the "off-the-shelf" type, the so-called "boil and bite" protector, and the custom-fitted mouthguard that we can fabricate. Let's look briefly at all three.
The first type, available at many sporting goods stores, comes in a limited range of sizes, and an unknown range of quality. It's the least expensive option, offering a minimal level of protection that's probably better than nothing.
The second type, although popular, is also limited in its protection. This one is designed to be immersed in hot water, and then formed in the mouth using finger, tongue and bite pressure. If it can be made to fit adequately, it's probably better than the first type — though it often lacks proper extensions, and fails to cover the back teeth. Also, upon impact, the rubber-like material will distort and not offer as much protection as you would like to have.
The third is a piece of quality sports equipment that's custom-made for your child's mouth (or your own). To fabricate this mouthguard, we first make a model of the individual's teeth, and then mold the protector to fit just right. Made from tough, high-quality material, it's designed to cover all teeth, back and front, without being excessively bulky. It can even be made to accommodate growing teeth and jaws. And, it's reasonable in cost.
To paraphrase the ADA's recommendation, the best mouthguard is the one you wear. A comfortable, correctly-fitted mouthguard is easy to wear — and it can help prevent dental injury, giving you one less thing to worry about. Now, if you could just get you child to keep her eye on the ball.
If you have questions about mouthguards or sports-related dental injuries, please contact us or schedule an appointment for a consultation. You can learn more in the Dear Doctor magazine articles "Athletic Mouthguards" and "An Introduction to Sports Injuries & Dentistry."