Posts for tag: dental crowns
By MARK LUKIN
May 14, 2019
Dental crowns restore function and the cosmetic appearance of teeth damaged by tooth decay or trauma where a significant portion of the
tooth has been lost. They also replace missing teeth with bridgework. The dentists at Lukin Family Dentistry in Sugar Land, TX, offer cosmetic and general dentistry services for the entire family.
Dental Crowns in Sugar Land, TX
Q: What is a Dental Crown?
A: Crowns are a custom made covering for a damaged or decayed tooth. If a cavity is too large to be filled with a standard dental filling or a tooth is fractured or breaks, a crown can restore the lost tooth surface, protect the root from damage, and in many cases save the tooth from extraction. Crowns can also replace missing teeth through bridgework, and for cosmetic improvements.
Q: When is a Dental Crown Needed?
A: The dentist will recommend the best restoration option after a dental exam. Crowns are typically recommended to:
Restore a broken, cracked, or fractured tooth
Cover a dental implant
Replace a missing tooth with bridgework
Strengthen a tooth after root canal therapy
Cosmetic improvements
Q: How Long do Dental Crowns Last?
A: On average, dental crowns can last anywhere from five to ten years or longer. Practicing good oral hygiene at home and going to the dentist for regular follow up and preventive care (the American Dental Association recommends a check up and cleaning every six months) is the best way to preserve your dental crowns and restorations, and to help lower your risk of tooth decay and gum disease.
Find a Dentist in Sugar Land, TX
For more information about dental crowns and bridgework and other cosmetic and restorative dentistry services, contact Lukin Family Dentistry by calling 281-265-9000 to schedule an appointment with a dentist today.
By MARK LUKIN
October 11, 2017
Smile problems? With options like dental crowns and bridges, your Sugar Land, TX dentist can take your smile from being so-so to simply
beautiful. Dr. Stephen Lukin and Dr. Mark Lukin at Lukin Family Dentistry offer a complete range of dental services. Keep reading to find out what dental crowns and bridges can do for your smile.
Crowns Overview
Dental crowns are "caps" that are placed over damaged or weak teeth to improve their size, shape, strength, and appearance. Dental crowns can be made of ceramic, resin, metal, or porcelain fused to metal. Dental crowns are cemented onto teeth, and can only be removed by a dental professional.

Benefits of Crowns
Crowns are used to treat teeth that have decayed or broken so much that they cannot be fixed with fillings. Your dentists in Sugar Land sometimes use dental crowns after root canal therapy to seal the tooth and prevent it from breaking. Crowns are also used to improve how teeth look. They can instantly correct misshapen teeth, tooth discoloration, cracks, chips, fractures, and more.

Bridges Overview
Millions of people suffer tooth loss, mostly due to decay, periodontal disease, or injuries. A bridge replaces one or more teeth by placing dental crowns on the teeth on both sides of the gap, and attaching fabricated teeth to them. Bridges can only be removed by a dentist because they are attached to the mouth.

Benefits of Bridges
A bridge can restore your smile and improve your appearance. Bridges look great and match real teeth exceptionally well. If you have missing teeth, you may find it difficult to eat certain foods. Dental bridges will restore your ability to chew food. A bridge can also prevent your existing teeth from drifting out of place.
If you need a dental restoration why wait? Start your journey today! Call Lukin Family Dentistry at 281-265-9000 now to schedule a dental appointment in Sugar Land, TX. Remember, a better life starts with a better-looking smile.
By Stephen P. Lukin, D.D.S.
September 11, 2011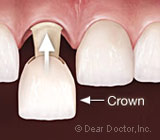 Creating a dental crown that looks good and wears well is not an easy achievement. It is the result of good communication you, the patient, have with us, your dental professionals, and that we have with the dental lab that manufactures the crown. In addition, it reflects the quality of work done by us and by the lab technician.
What is a dental crown?
A crown is a dental restoration that surrounds the remains of a damaged tooth or is attached to a dental implant so that it resembles a natural tooth as it extends above the gum line. The choice of materials and appearance of the crown depend upon many factors. One is the location of the crown. If it is in the back part of your jaw, strength and wear will be a major factor. If it is in the front, a life-like appearance will be important.
What goes into making a good-looking and functional crown?
Options for crown materials include porcelain, gold, porcelain fused to metal (called PFM) and some newer materials such as "pressed-ceramic" restorations and computer-milled-ceramics.
You as the patient can have a say in choosing the crown's color and appearance. Before it is cemented into its final position, make sure you are happy with the feel and appearance of your new crown.
Gold is often chosen for crowns on back teeth because of its superior wear qualities. Gold crowns have been known to last more than 50 years. They also cause minimal wear to the teeth that they touch on the opposing jaw.
Crowns made of porcelain (a glass-like substance fired in an oven at a high temperature) look good but may be too brittle to stand the wear and forces given to back teeth. Like glass, they can fracture under pressure. But because of their lifelike appearance they make a good choice for visible front teeth.
PFM (porcelain-fused-to-metal crowns) are a good combination of the best of gold and porcelain, but they sometimes lose the stains applied to make them look natural, and occasionally they fracture away from the metal.
A provisional crown can help you make sure you are getting a crown with the qualities you want. With the provisional crown all the details are worked out ahead of time, and you get a chance to try them out to make sure the crown looks good and that you can eat and talk normally. After you give your approval on the provisional crown, the final crown will be made to match it, in longer-lasting and better quality components.
Contact us today to schedule an appointment to discuss your questions about crowns and other dental restorations. You can also learn more by reading the Dear Doctor magazine article "Gold or Porcelain Crowns."