Posts for tag: crown
By MARK LUKIN
February 20, 2020
Restore and beautify. Span a smile gap. These are the benefits of crowns and bridges from your dentists in Sugarland, Dr. Stephen Lukin and Dr. Mark Lukin. Great substitutes for failing teeth, crowns and bridges look and act like natural teeth. Could they help your smile?
What are crowns?
Dental crowns are porcelain caps that imitate natural tooth structure and appearance. Placed over existing tooth structure and accurately blending in with adjoining teeth, crowns provide excellent protection and support for teeth which have:
Lost a substantial amount of enamel due to cavities, wear or injury
Undergone root canal therapy because of extensive decay, infection or other injuries
Odd shape or size or deep stains and surface defects
In his Sugar Land office, our dentist will examine and X-ray your tooth to see if a crown is your best restorative choice. If so, oral impressions and a detailed care plan tells the dental lab how to fashion your new crown.
Also, if you need a single-tooth implant to replace a missing tooth, your dentist will use a porcelain crown to restore it.
What are bridges?
A bridge consists of one or more pontic, or artificial, teeth attached to porcelain crowns. The crowns cover natural teeth on opposite sides of a smile gap. Thus, this prosthetic is sturdy and permanent.
Some people choose state of the art bridges supported by titanium dental implants. These prosthetics anchor to the jaw bone itself for superior stability, oral function and maintenance of jaw bone health and density.
The benefits of crowns and bridges
In many cases, crowns can avoid dental extractions.
Bridges span gaps, allowing for best chewing and physical appearance.
Bridges hold remaining natural teeth in proper alignment.
Both kinds of prosthetics are durable and last for many years.
Today's material of choice for crowns and bridges is lifelike and dependable porcelain. (No one will even notice you wear one because the color and shape are realistic.)
For your best smile...
Learn what the preventive, restorative and cosmetic services offered at Lukin Family Dentistry can do for your oral health and smile aesthetics. Call us for a bridge or crown consultation. Call (281) 265 9000.
By Stephen P. Lukin, D.D.S.
January 13, 2012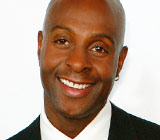 As a Pro Football Hall of Famer and first runner up on the hit television show Dancing with the Stars, Jerry Rice has a face and smile that truly has star quality. However, that was not always the case. During an interview with Dear Doctor magazine, the retired NFL pro discussed his good fortune to have had just a few minor dental injuries throughout his football career. He went on to say that his cosmetic dentist repaired several of his chipped teeth with full crowns. Rice now maintains his beautiful smile with routine cleanings and occasional tooth bleaching.
If you have chipped, broken or missing teeth, or are considering a smile makeover, we want to know exactly what you want to change about your smile, as the old adage is true: Beauty is in the eyes of the beholder. This is one reason why we feel that listening is one of the most important skills we can use during your private, smile-makeover consultation. We want to use this time to ensure we see what you see as attractive and vice versa so that together we can design a realistic, achievable blueprint for your dream smile.
For this reason, we have put together some questions you should ask yourself prior to your appointment:
What do you like and dislike about the color, size, shape and spacing of your teeth?
Do you like how much of your teeth show when you smile and when your lips are relaxed?
Are you happy with the amount of gum tissue that shows when you smile?
Do you prefer a "Hollywood smile" with perfectly aligned, bright white teeth, or do you prefer a more natural looking smile with slight color, shape and shade variations?
To learn more about obtaining the smile you want, continue reading the Dear Doctor magazine article "Great Expectations — Perceptions In Smile Design." Or you can contact us today to schedule an appointment so that we can conduct a thorough examination and discuss your cosmetic and restorative dentistry treatment goals. And if you want to read the entire feature article on Jerry Rice, continue reading "Jerry Rice — An Unbelievable Rise To NFL Stardom."