Posts for: August, 2020
By Mark Lukin
August 11, 2020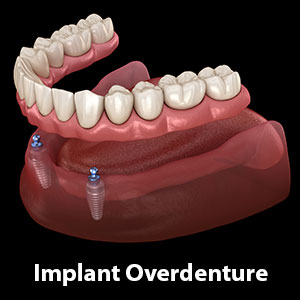 Even in the 21st Century, losing most or all of your teeth is still an unfortunate possibility. Many in this circumstance turn to dentures, as their great-grandparents did, to restore their teeth. But today's dentures are much different from those of past generations—and dental implants are a big reason why.
The basic denture is made of a gum-colored, acrylic base with artificial teeth attached. The base is precisely made to fit snugly and comfortably on the patient's individual gum and jaw structure, as the bony ridges of the gums provide the overall support for the denture.
Implants improve on this through two possible approaches. A removable denture can be fitted with a metal frame that firmly connects with implants embedded in the jaw. Alternatively, a denture can be permanently attached to implants with screws. Each way has its pros and cons, but both have two decided advantages over traditional dentures.
First, because implants rather than the gums provide their main support, implant-denture hybrids are often more secure and comfortable than traditional dentures. As a result, patients may enjoy greater confidence while eating or speaking wearing an implant-based denture.
They may also improve bone health rather than diminish it like standard dentures. This is because the forces generated when chewing and eating travel from the teeth to the jawbone and stimulate new bone cell growth to replace older cells. We lose this stimulation when we lose teeth, leading to slower bone cell replacement and eventually less overall bone volume.
Traditional dentures not only don't restore this stimulation, they can also accelerate bone loss as they rub against the bony ridges of the gums. Implants, on the other hand, can help slow or stop bone loss. The titanium in the imbedded post attracts bone cells, which then grow and adhere to the implant surface. Over time, this can increase the amount of bone attachment and help stymie any further loss.
An implant-supported denture is more expensive than a standard denture, but far less than replacing each individual tooth with an implant. If you want the affordability of dentures with the added benefits of implants, this option may be worth your consideration.
If you would like more information on implant-supported restorations, please contact us or schedule an appointment for a consultation. You can also learn more about this topic by reading the Dear Doctor magazine article "Overdentures & Fixed Dentures."
By Mark Lukin
August 01, 2020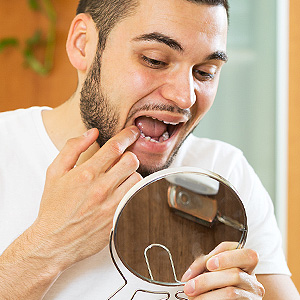 If you're an adult, your teeth shouldn't wiggle—not even a little bit. If you have a loose tooth, you need to see your dentist as soon as possible to avoid losing it permanently.
Loose teeth usually happen because of one of two kinds of bite-related trauma. One is known as primary occlusal, which usually happens when the periodontal (gum) structures that help secure teeth encounter higher than normal biting forces. This is usually due to a clenching or grinding habit.
The other and more common kind is secondary occlusal: This happens when the periodontal structures and supporting bone are in a weakened state, usually because of gum disease. In this condition, even normal biting forces can cause damage to a tooth's gum attachment and result in looseness.
To stop a loose tooth from becoming a lost tooth, we'll need to take these immediate steps.
Treat any underlying disease. If a gum infection is the culprit, our first priority is to stop it from doing any more damage. The main treatment for gum disease is to remove dental plaque, a thin film of bacteria and food particles that's the usual cause for the infection. Depending on how much the infection has advanced, this could take several sessions to bring it under control.
Reduce abnormal biting forces. If teeth are loose from abnormally high bite forces, there are a few things we can do. One is to selectively reshape the biting surfaces of teeth so that they receive less force while biting. Another approach is to minimize the effect of teeth grinding with an occlusal guard worn in the mouth: Its slick plastic surface prevents teeth from making solid contact while biting.
Splint loose teeth to secure them. We can secure loose teeth by splinting them to more stable teeth with metal strips or other means. Splinting is often done in conjunction with the aforementioned treatments, and is usually temporary until the tooth regains its periodontal attachments. Sometimes, though, it may be necessary to permanently splint a weakened tooth.
A loose tooth isn't necessarily destined to be lost. But we'll have to act quickly—if you have a loose tooth see us as soon as possible to determine how best to save it.
If you would like more information on saving loose teeth, please contact us or schedule an appointment for a consultation. You can also learn more about this topic by reading the Dear Doctor magazine article "Treatment for Loose Teeth."