Posts for: May, 2017
By Mark Lukin
May 25, 2017
Most children's permanent teeth erupt on a fairly predictable schedule. Sometimes, though, one or more teeth might not develop as they should — or at all.
These absent teeth pose functional problems for chewing and hygiene, which can affect long-term dental health. But they can also have a disruptive effect on an otherwise attractive smile if the missing teeth are the upper lateral incisors in the most visible part of the smile.
You normally find this pair of teeth on either side of the upper central incisors (the two front-most teeth). On the other side of the lateral incisors are the canine or eye teeth, known for their pointed appearance. Without the lateral incisors, the canines tend to drift into the space next to the central incisors. This can produce an odd appearance even a layperson will notice: only four teeth where there should be six!
It's possible to correct this abnormality, but it will take time and expense. The first step is usually to move the teeth in the upper jaw with braces to their correct position. This puts teeth where they should be and also opens space between the canines and central incisors so we can eventually replace the missing teeth with dental implants.
But the key to all this is timing. It's usually appropriate to undertake tooth movement with braces during late childhood or adolescence. But implants shouldn't be installed until the person's jaw fully matures, usually in early adulthood. An implant placed before then could eventually become misaligned.
To accommodate the time between bite correction and implant placement, the patient can wear a retainer appliance that will keep the newly created space open. We can also attach artificial teeth to the retainer to camouflage the empty space.
It usually takes a team of a family dentist, an orthodontist and a surgeon to see this kind of "smile makeover" project through, possibly over several years. But the gains in better aesthetics and health are well worth the time and expense.
If you would like more information on replacing non-developing teeth, please contact us or schedule an appointment for a consultation. You can also learn more about this topic by reading the Dear Doctor magazine article "When Permanent Teeth Don't Grow."
By Mark Lukin
May 10, 2017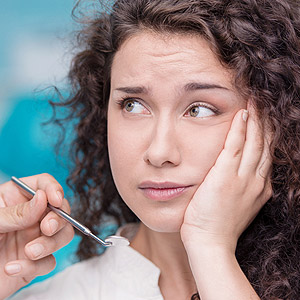 A toothache means you have tooth decay, right? Not necessarily — your pain could be signaling a number of potential causes. Determining where, how much and how often it hurts will help us find out the cause and apply the appropriate treatment.
A single symptom, for example, can mean many things. A twinge of tooth pain as you consume hot or cold foods might indicate localized tooth decay easily repaired by a filling. But it could also mean the tooth's root surface has been exposed as a result of periodontal (gum) disease — aggressive plaque removal and maybe even gum surgery might be necessary. Or it could be a sign of inner pulp decay: in this case you'll likely need a root canal treatment to save the tooth.
Pulp decay can also announce itself with a very sharp and constant pain radiating from one or more teeth. You shouldn't hesitate to see us for an examination — even if the pain goes away. Pain cessation most likely means the nerves in the pulp have died. The infection, however, still exists, so you'll still probably need a root canal treatment.
If you notice severe, continuous pain and pressure around a tooth, particularly about the gums, you may have a localized, inflamed area of infection called an abscess. An abscess can be the result of gum disease, but it might also stem from a foreign body like a popcorn husk, getting stuck below the gums. We'll need to conduct a complete dental examination to determine the cause and how to treat it.
Finally, a sharp pain when you bite down could mean many things such as a loose filling or a fractured (cracked) tooth. The latter especially requires immediate attention to save the tooth.
These are just a few of the possible causes behind mouth or facial pain. Although all of them are serious, a few are true dental emergencies and can't wait if we're going to save a tooth. The sooner you see us, the sooner we can help relieve the pain, minimize any damage and avert disaster.
If you would like more information on treating tooth pain, please contact us or schedule an appointment for a consultation. You can also learn more about this topic by reading the Dear Doctor magazine article "Tooth Pain? Don't Wait!"