Posts for: January, 2017
By Mark Lukin
January 17, 2017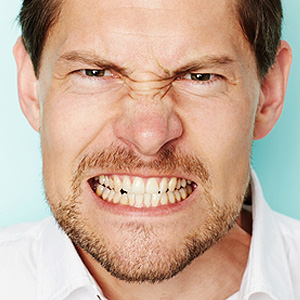 Your teeth naturally wear as you age, but you may be making it worse if you grind your teeth.
Teeth grinding is a behavior that causes the teeth to gnash, grind or clench against each other generating forces greater than those produced from normal biting. These forces often result in tooth wear that cause not only functional problems but result in a more aged appearance. Grinding occurs while a person is awake, but most often episodes occur while asleep at night.
Teeth grinding is quite common in children, but not usually of great concern since most grow out of it. There's even a school of thought that teeth grinding might even help readjust an uneven bite.
Among adults, though, other factors seem to contribute to teeth grinding. Many researchers believe nighttime grinding occurs as a person passes through different sleep phases including deep REM (Rapid Eye Movement) sleep. It may also have a connection with chronic snoring.
Certain medications seem to contribute to teeth grinding, particularly psychoactive drugs like amphetamines. Nicotine falls in this category, which could be why tobacco users report twice the incidence of the habit compared to non-users. Teeth grinding is also connected to another fact of modern life: stress. People who grind their teeth tend to have higher levels of anxiety, hostility or depression.
Because there are multiple triggers, there are many treatment approaches. Whatever course we take, our aim is to eliminate or minimize those factors that contribute to your habit. For example, we can create a custom mouth guard for night wear to prevent the teeth from making solid contact and thus reduce the biting pressure.
Perhaps the most important thing is to control or reduce stress. This is particularly helpful at night to prepare you for restful sleep by changing some of your behaviors. We also encourage investigating other stress therapies like biofeedback, meditation or group therapy.
Whatever the means, bringing teeth grinding under control not only reduces problems now, but could also help prevent abnormal teeth wearing and future health issues down the road.
If you would like more information on causes and treatments for teeth grinding, please contact us or schedule an appointment for a consultation. You can also learn more about this topic by reading the Dear Doctor magazine article "Stress & Tooth Habits."
By Mark Lukin
January 02, 2017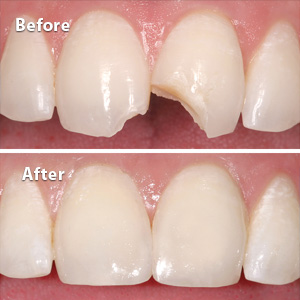 You have a winning smile except for one small flaw — one of your front teeth is chipped. In functional terms the defect is insignificant: your tooth is healthy and can still do its job. But with regard to your smile that chip is like a smudge on a masterpiece painting: it stands out — and not in a good way.
The good news is you have options to repair the chip and vastly improve your appearance. One option is to bond a custom porcelain veneer to the outside of the tooth to cover the chip. But that would also mean removing a slight bit of tooth enamel so the veneer won't appear too bulky. Although not as much as with a crown, the alteration still permanently affects the tooth — it will always require a restoration of some kind.
There's another choice that doesn't involve removing any of your enamel: composite resin. This treatment is a mixture of materials with a glass-like binder in liquid form that we apply to a tooth in successive coats. As we build up the layers we can match the tooth's shape, texture and various shades of its natural color. We're able to fill in the defect and make the tooth appear as natural as possible.
Unlike porcelain restorations, composite resins don't require a dental lab or a period of weeks to prepare. We can transform your simile in our office in as little as one visit.
Composite resin isn't the answer for every tooth defect. Teeth that have become worn, fractured or have undergone a root canal treatment are best treated with a porcelain restoration such as a veneer or crown. But where the defect is relatively minor, composite resin may be the answer.
To learn if you can benefit from a composite resin restoration, you'll need to undergo a dental exam. If we determine you're a candidate, we can use this state-of-the-art dental material to make your teeth look flawless.
If you would like more information on composite resins, please contact us or schedule an appointment for a consultation. You can also learn more about this topic by reading the Dear Doctor magazine article "Artistic Repair of Front Teeth with Composite Resin."