Posts for: July, 2016
By Mark Lukin
July 20, 2016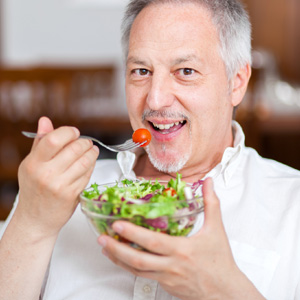 One of the most popular subjects in books, magazines and social media is food — the things we should or should not eat (or at least not too much). While losing weight is a popular focus, it's only one part of the whole — a balanced diet that supplies the nutrients we need to be healthy.
What you eat can also make a difference in your oral health. Here are 4 changes you should make to your dietary habits to cut down on the risk of dental disease.
Adopt a nutritionally sound diet plan. When we say diet, we're not talking about the latest weight-loss sensation — we mean a planned way of eating for life. For most people, that's a balanced diet of fresh fruits and vegetables, protein and dairy. Your teeth and gums have the best chance of remaining strong and healthy with a nutrient-rich diet.
Manage your sugar intake. Sugar and similar carbohydrates are a rich food source for bacteria that cause dental disease. It's important then that you keep your sugar consumption within limits: don't eat more than six teaspoons of processed sugar a day (or three for a child); avoid sugary snacks between meals; and try to satisfy your sweet tooth with the natural sugars found in fresh fruits and vegetables.
Cut back on acidic beverages. Sodas, juices, sports and energy drinks are all the rage. They're also high in acid, which at chronic levels can soften and erode tooth enamel. So, try to drink them only at meal times and avoid sipping on them over long periods. And, if you're hydrating yourself after moderate work or exercise, try nature's perfect hydrator — water.
Avoid eating before bedtime. A good portion of the acid in our mouths after we eat can be neutralized by saliva. As we sleep, though, our saliva flow slows down and doesn't have the same buffering power as it does during the day. So, try not to eat as least an hour before you turn in for the night, especially foods with added sugar.
If you would like more information on nutrition and oral health, please contact us or schedule an appointment for a consultation. You can also learn more about this topic by reading the Dear Doctor magazine article "Nutrition & Oral Health."
By Mark Lukin
July 05, 2016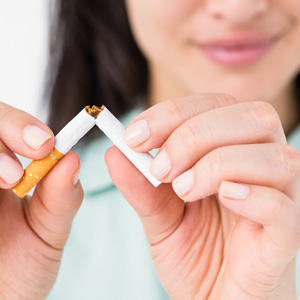 If you're considering a dental implant as a replacement for a lost tooth, you're looking at a restoration method with an amazing 95% success rate after ten years. But that being said there's still a risk, albeit quite low, the implant might fail.
And if you smoke, the risk is slightly higher. In a recent study of implant patients, twice as many of the failures occurred in smokers compared to non-smokers. If you're a smoker, you can increase your chances of a successful outcome if you quit the habit.
Nicotine, a chemical within tobacco, is the primary cause for this higher risk. Besides its effect on the pleasure centers of the brain, nicotine also restricts smaller blood vessels that are abundant in the mouth and skin, causing less blood flow. As a result, the mouth doesn't have as many antibodies and other substances available to fight infection and help traumatized tissues heal.
Because of this, as well as reduced saliva flow due to the habit, smokers have an increased risk of dental disease and are slower to respond to treatment. This can be especially problematic if the gum tissues around an implant become infected, which could lead to a catastrophic failure. Slower healing also impacts the post-surgery period when bone cells in the jaw are growing and adhering to the implant surface, forming a stronger bond.
To avoid these potential risks you should stop smoking before you undergo implant surgery. If you can't completely kick the habit, you should at least stop a week before surgery and for two weeks after. It's also critical that you practice good oral hygiene — both brushing and flossing — to minimize the occurrence of dental disease and see us for regular checkups and maintenance appointments.
Taking these steps will greatly increase your chances of being in the vast majority of people who continue to enjoy success with their implants for many years.
If you would like more information on the impact of smoking on dental health, please contact us or schedule an appointment for a consultation. You can also learn more about this topic by reading the Dear Doctor magazine article "Dental Implants & Smoking."