Posts for: January, 2016
By Mark Lukin
January 21, 2016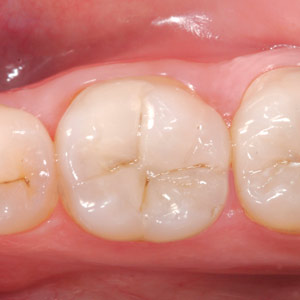 It takes a lot of skill, experience, talent and artistry to create tooth restorations that look so natural that no one can tell them apart from the originals. To do so requires understanding of the normal anatomy of a tooth as well as of the interactions of light and color.
How the anatomy of a tooth determines color
The color that we perceive when looking at a tooth results from the combined appearance of the tooth's center core (dentin layer) and its covering enamel. Going from the outside in, the enamel is made of tightly packed crystals of calcium, which cause it to be one of the hardest substances naturally produced by animals. The crystals are also responsible for a tooth's brilliance and translucence. The dentin is more like bone, a porous living tissue composed of microscopic tubes, interspersed with more calcium crystals. In the very center of the tooth is a central chamber containing the pulp and nerves.
Each of these layers has its own physical and optical properties. Since the enamel is translucent and the dentin is more opaque, most of the tooth's color comes from the dentin and is transmitted through the enamel layer. Factors that affect this transmission include the thickness and age of the enamel as well as external tooth whitening.
If the enamel is more translucent, more of the color of the dentin shows through. If it is more opaque, the enamel absorbs and reflects light so that less color is visible and the enamel looks brighter.
The language of color composition and reflected light
Color means the whole spectrum in the rainbow. The spectrum is made up of the three primary colors — red, blue, and green. When all are combined, they create white light.
Hue refers to the brightest forms of the colors. The color we perceive depends on the dominant wavelength of light that is reflected by an object.
Value refers to a color's lightness or darkness. A brighter color has a higher value.
Chroma is the amount of identifiable hue in a color. An achromatic color (without hue) appears gray.
Saturation is a measure of a color's intensity.
This terminology of color is used not only by dentists and dental technicians, but also by a wide range of artists. It implies expertise and understanding of how colors work, how they vary and change and affect one another.
Contact us today to schedule an appointment or to discuss your questions about bonding to repair chipped teeth. You can also learn more by reading the Dear Doctor article, "Artistic Repair of Front Teeth with Composite Resin."
By Mark Lukin
January 06, 2016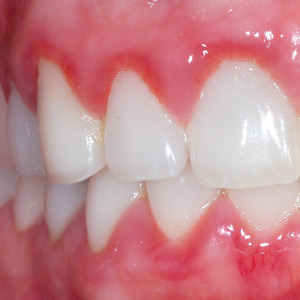 People with poor hygiene habits can develop a chronic form of periodontal (gum) disease known as gingivitis. Characterized by inflamed and bleeding gums, gingivitis is caused by an infection triggered by bacterial plaque, a thin film of food remnant built up on tooth surfaces.
This chronic form of gingivitis, though, can quickly escalate into more serious forms of gum disease that may lead to tooth and bone loss. One such condition is Acute Necrotizing Ulcerative Gingivitis (ANUG), also known as "trench mouth." ANUG is a painful condition that can appear suddenly and result in extensive tissue damage and ulcerations, particularly in the papillae, the small, triangular bits of tissue between teeth. Persons with ANUG may also develop a foul breath and taste.
Gingivitis often develops into ANUG when certain mouth conditions exist: poor diet, smoking, which can dry the mouth and disrupt healthy bacterial flora, and increased stress or anxiety. If caught early, though, ANUG is highly treatable and reversible.
After determining you have ANUG and not another condition, our first step is to relieve the symptoms with non-steroidal anti-inflammatory drugs (NSAIDs) like ibuprofen to manage pain and reduce swelling. We also prescribe a regimen of antibiotics like Amoxicillin (a proven antibiotic against the specific bacteria that cause ANUG). This should decrease the symptoms within 24 to 48 hours.
As the inflammation subsides we want to continue treatment by removing any plaque or calculus (hardened plaque deposits), especially in hard to reach places. This involves a technique known as scaling in which we used specialized hand tools or ultrasonic equipment to manually remove and flush away plaque and calculus.
The final step depends on you. To prevent reoccurrence, it's important for you to consistently practice effective oral hygiene to remove plaque — brushing twice and flossing once each day, and visiting us at least twice a year for cleanings and checkups. Quitting tobacco and improving your diet will also reduce your risk for ANUG.
ANUG and any other form of gum disease can cause a lot of damage. But taking steps to care for your teeth will help keep this acute form of gingivitis from arising in the first place.
If you would like more information on gingivitis and other forms of gum disease, please contact us or schedule an appointment for a consultation. You can also learn more about this topic by reading the Dear Doctor magazine article "Painful Gums in Teens & Adults."