Posts for: March, 2015
By Mark Lukin
March 26, 2015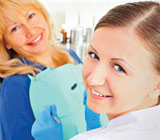 Once you receive your dental implants, you can have peace-of-mind in knowing that you have chosen a successful tooth replacement option, with long-term success rates of well over 95%. Your implant will look, feel and function just like the natural teeth that it has replaced.
However, despite the natural appearance, when you visit us for a regular cleaning, you may notice that we are using special instruments to clean around the implant. Cleaning around implants differs from the maintenance of your natural teeth for two reasons:
Your implants attach to the surrounding bone and gums in a very different way from your natural teeth.
The materials that comprise your implants are very different than those that make up your natural teeth.
Cleaning implants is just as important as cleaning natural teeth, because both depend on healthy surrounding tissues for support. Just as bacterial biofilm (plaque) collects on your natural teeth, it can also collect on your implant. That is why it is very important to brush and floss thoroughly on a daily basis at home. Without daily biofilm removal, the gums surrounding your implant can become infected, leading to bone loss and eventually loss of the implant.
Your regular dental cleanings will also play an important role in keeping dental implants infection-free, and we will select the right instruments for a professional cleaning. We will ensure that these instruments will not damage the crown, abutment, or the implant itself. If implants are scratched, they can attract and harbor bacteria. That's why the instruments we use, called scalers and curettes, are most often made of plastics and resins. Natural teeth don't scratch in the same way, and therefore metal instruments need to be used to clean them.
A number of power instruments have nylon or plastic sheaths or tips to minimize implant damage. They clean by using high-frequency vibration, which may be necessary if large quantities of debris have accumulated on your implant. We use these on a low power setting with a lot of water irrigation, and sometimes antibacterial solutions, to clean and flush material.
When it comes to keeping your implants infection-free, keep in mind that the most successful formula will be consistent oral hygiene at home mixed with regular dental cleanings.
If you would like more information about maintaining your dental implants, please contact us or schedule an appointment for a consultation. You can also learn more by reading the Dear Doctor magazine article "Dental Implant Maintenance."
By Mark Lukin
March 11, 2015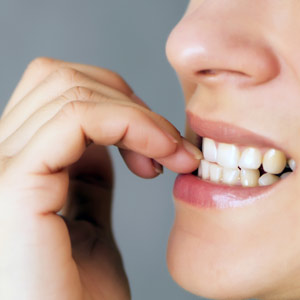 Periodontal (gum) disease is the most likely cause of a loose, permanent tooth. This progressive infection causes damage to the gums and bone tissues that hold teeth in place, leading to looseness and ultimately tooth loss.
Gum disease, however, isn't the only cause: although not as common, excessive biting forces over time may also lead to loose teeth. The excessive force stretches the periodontal ligaments that hold teeth in place, causing the teeth to become loose.
This condition is called occlusal trauma. In its primary form, the patient habitually grinds or clenches their teeth, or bites or chews on hard objects like pencils or nails. Generating 20-30 times the normal biting force, these habits can cause considerable damage. It can also be a factor when gum disease is present — supporting bone becomes so weakened by the disease, even normal biting forces can cause mobility.
If you recognize the early signs of grinding or clenching, particularly jaw soreness in the morning (since many instances of teeth grinding occur while we sleep), it's important to seek treatment before teeth become loose. The symptoms are usually treated directly with muscle relaxants, an occlusal guard worn to soften the force when teeth bite down, or stress management, a major trigger for teeth grinding. The sooner you address the habit, the more likely you'll avoid its consequences.
If, however, you're already noticing a loose tooth, treatment must then focus on preserving the tooth. Initially, the tooth may need to be splinted, physically joined to adjacent teeth to hold it in place while damaged tissues heal. In some cases, minute amounts of enamel may need to be removed from the tooth's biting surfaces to help the tooth better absorb biting forces. Other treatments, including orthodontics and gum disease treatment, may also be included in your treatment plan.
If you notice a loose tooth, it's critical you contact us as soon as possible for an evaluation — if you delay you increase the chances of eventually losing it. The earlier you address it, the better your chances of preserving your tooth.
If you would like more information on loose teeth, please contact us or schedule an appointment for a consultation. You can also learn more about this topic by reading the Dear Doctor magazine article "Loose Teeth."