Posts for: March, 2014
By Mark Lukin
March 18, 2014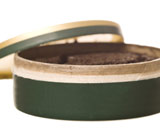 Chewing tobacco, especially among young athletes, is considered fashionable — the "cool" thing to do. Many erroneously think it's a safe alternative to smoke tobacco — it is, in fact, the source of numerous health problems that could ultimately lead to disfigurement or even death.
Chewing or dipping tobacco is especially linked with the sport of baseball. Its traditions in baseball go back to the late Nineteenth Century when players chewed to keep their mouths moist on dusty fields. The habit hit its greatest stride after the surgeon general's warning on cigarettes in the late 1950s. Now, players wishing to emulate their major league heroes are prone to take up chewing tobacco at an early age.
But the habit comes with a price tag. Individuals who chew tobacco are more susceptible to oral problems like bad breath, mouth dryness, or tooth decay and gum disease. Users also increase their risk for sexual dysfunction, cardiopulmonary disease (including heart attack and stroke) and, most notably, oral cancer.
Derived from the same plant, chewing and smoke tobacco share a common trait — they both contain the highly addictive drug nicotine. Either type of user becomes addictive to the nicotine in the tobacco; and like smoking, a chewing habit can be very difficult to stop.
Fortunately, many of the same treatments and techniques for quitting smoking can also be useful to break a chewing habit. Nicotine replacement treatments like Zyban or Chantix have been shown effective with tobacco chewing habits. Substituting the activity with gum chewing (non-nicotine, and with the sweetener Xylitol), or even an herbal dip can also be helpful.
Like other difficult processes, it's best not to try to quit on your own. You should begin your efforts to quit with a consultation with your doctor or dentist — they will be able to prescribe cessation medications and provide other suggestions for quitting. You may also find it helpful to visit a behavioral health counselor or attend a tobacco cessation support group.
Rather than just one approach, successful quitting usually works best with a combination of techniques or treatments, and perhaps a little trial and error. The important thing is not to give up: the improvements to your dental health — and life — are worth it.
If you would like more information on quitting chewing tobacco, please contact us or schedule an appointment for a consultation. You can also learn more about this topic by reading the Dear Doctor magazine article "Quitting Chewing Tobacco."
By Mark Lukin
March 03, 2014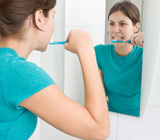 If your gums bleed when you brush your teeth, it's unlikely the cause is brushing too hard. The more common reason (especially if you're experiencing little to no pain) is periodontal (gum) disease caused by the accumulation of bacterial deposits known as dental plaque and calculus where your teeth and gums meet.
This bacterial dental plaque results in an infection in the soft tissues of the gum; the body responds to this infection with antibodies, which in turn cause the gums to become swollen, or inflamed. As this biological "war" rages on, both the infection and inflammation become chronic. The tissues are weakened from this disease process and bleed easily.
Bleeding gums, then, is an important warning sign of possible gum disease. As the infection progresses the normal attachment between the teeth and gums begins to break down and form pockets in the void. The infection will continue within these pockets, eventually spreading deeper into the gums and bone. The gum tissue may begin to recede, resulting in bone loss and, if untreated, to tooth loss.
In the early stages of the disease, bleeding gums could be the only symptom you notice. It's possible the bleeding may eventually stop, but this doesn't mean the disease has, and is more likely advancing. If you've encountered bleeding gums, you should visit us as soon as possible for a complete examination.
There's a two-pronged approach for treating gum disease. The first prong — and top priority — is to remove as much of the offending bacterial plaque and harder deposits (calculus) as possible, along with the possibility of follow-up antibacterial and antibiotic treatment. This may require more than one session, but it's necessary in stopping the disease. The second prong is instituting proper oral hygiene: daily brushing and flossing (using proper techniques we can teach you) and semi-annual professional cleanings in our office to remove any plaque or calculus not removed with brushing.
Bleeding gums is your body's way of telling you something isn't right with your gums. The sooner you seek diagnosis and treatment, the better your chances of halting the damage caused by the disease.
If you would like more information on bleeding gums as a warning sign of gum disease, please contact us or schedule an appointment for a consultation. You can also learn more about this topic by reading the Dear Doctor magazine article "Bleeding Gums."