Posts for: February, 2012
By Stephen P. Lukin, D.D.S.
February 16, 2012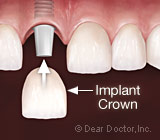 Dental implants are a fascinating treatment option that can be life changing when used properly. They have also experienced tremendous scientific advancements and press over the years making them highly desirable by people of all walks of life. See how much you really know about dental implants by taking our quick and easy true/false self test.
Dental implants can produce lifelike results that are indistinguishable from natural surrounding teeth.
True or False
Many dental professionals consider dental implants as a "third set of teeth," as they can last a lifetime when properly maintained.
True or False
A dental implant is a safe option that is suitable for all patients regardless of age.
True or False
When properly placed and maintained, dental implants have a 90% success rate.
True or False
If you do not have enough bone to support a successful dental implant, there is not much that can be done.
True or False
When teeth are missing, the face tends to have a sunken-in appearance called, "posterior bite collapse."
True or False
One of the positives of dental implants is that they do not affect adjacent teeth.
True or False
Dental implants typically cost significantly more than other options, such as a bridge, over the course of a lifetime.
True or False
Dental implants are always more desirable than bridgework or other treatment options for missing teeth.
True or False
Dental implants can lead to improved health due to better nutrition and proper digestion.
True or False
Answers:
True. Dental implants can appear as beautiful, natural teeth.
True. When properly maintained, implants provide the same function as natural teeth roots.
False. Dental implants are not suitable for replacing primary teeth or permanent teeth in young children or teenagers. They are best used when facial and jaw development is complete.
False. They have a 95% success rate.
False. If you do not have enough bone for a dental implant, you may be a candidate for a bone graft — a process in which we "grow" the bone we need for the implant.
True. This condition is often totally reversible once teeth have been restored through implants or bridgework.
True. Unlike bridgework, dental implants do not affect surrounding teeth.
False. They are less expensive in the long run.
False. Sometimes a bridge is better than an implant.
True. Once teeth are restored, chewing and digesting food is easier; thus health improves.
To learn more, continue reading the Dear Doctor magazine article "Dental Implants, Your Third Set of Teeth." Or, you can contact us today to schedule an appointment or to discuss your questions.
By Stephen P. Lukin, D.D.S.
February 08, 2012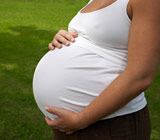 The beloved title of "mother" unfortunately does not come with a manual. If it did, it would certainly contain a section in which mothers-to-be could learn about the impact that pregnancy has on both their general and oral health. For example, did you know that during pregnancy the normally elevated levels of female hormone progesterone can cause inflammation in blood vessels within the gum tissues making the gums bleed? It typically occurs in response to less than adequate daily oral hygiene; however, it is just one important fact that all pregnant women should know.
There are numerous studies that have revealed that oral health during pregnancy can have a significant impact on the child growing inside you, and in particular, it has a direct relationship on your baby's developing and future oral health.
Periodontal (gum) disease can also be a factor in your baby's birth weight. In fact, there are a variety of studies supporting a positive link between pre-term delivery and low birth weight babies in the presence of severe periodontal disease in pregnant women. And there is also a correlation between the severity of periodontal disease and the possibility of an increased rate of pre-eclampsia or high blood pressure during pregnancy. This is another reason why it is important to see a dentist for an evaluation of your oral and dental health as soon as you know you are pregnant.
Please note that the goal of sharing these facts is not to scare you, but rather inform you so that you can be an educated mother-to-be. After all, you should be as healthy as possible for the most important job in the world and this includes both your oral and general health. Learn more about your body and discover the many relationships between mother and child as you read the Dear Doctor article, "Pregnancy And Oral Health." Or if you want to schedule an appointment to discuss your questions, contact us today.